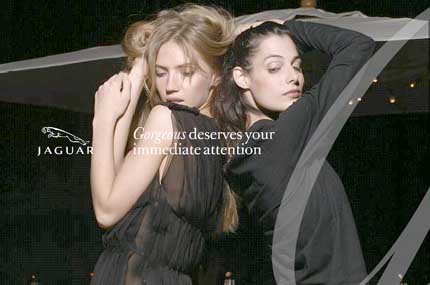 Ever since I covered the new
Jaguar
XK in
Lucire
's
print edition
about three months ago, I have been in love with the
car
.
Ian Callum
's
styling
is impressive, especially as it's the culmination of a dream he has held since he was a boy: to create his own Jaguar from concept to release.
It's getting plenty of
below-the-line
coverage
(such as in
Lucire
's recent
'The Car to Be Seen in'
, which I chair), which is why I think its latest
campaign
,
covered by Frederik Samuel at the Advertising/Design Goodness blog
, is a clever one. The
ads
focus on the word
gorgeous
and hardly show the product. Frederik doesn't like them, but I do.
They make sense to me:
consumers
are more
cynical
and
sophisticated
. They don't need to be shown a product that is already getting a lot of attention (with more to come as it is released,
market
by market). If anything, showing the product makes it all duller. Most
western car buyers surf to get more info. And, finally, a car is a
fashion
item, especially when it comes to
XK
Jags. People buy into a
lifestyle
, and Jaguar needed to define that as more
future-looking
than the image it presently holds (with the likes of
Arthur Daley
and
John 'Two Jags' Prescott
being its proponents).
At least it isn't that 'new Jag generation'
campaign
which had
Sting
flogging X-types, a car that appealed mainly to the 'old Jag generation'.
Too-thin
supermodel
types and the Jaguar
leaper
have their place, and they work together beautifully here. Buying a Jaguar XK is about an image, so why not play on the fantasy first, provide the setting, and allow the customer to fill in the gaps with his or her own little adventures?
The campaign is at
this link
, including videos.