I should not comment too much on
personal branding
, since it's the province of my co-author
Thomas Gad
, but if you are a
beauty queen
, the sensible thing would be to have your own blog,
as Miss Singa­pore, Shenise Wong, does
.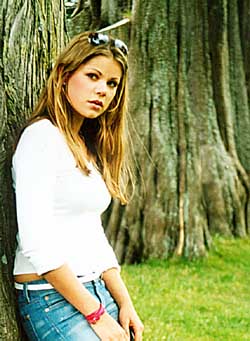 When my good friend
Amber Peebles
(pic­tured at left, in a photo taken by yours truly) went to Sanya in Red China as
New Zealand
's represen­tative last year, there was an
online
compet­ition
where the global public could
vote
for their favour­ite. A special award was given to the contes­tant who polled the best.
It's one of those "if onlys". If she had a
blog
, and it were
market­ed
success­fully, people would get to know her. It's the old idea of forming a connec­tion with your public. Natur­ally, she should have someone filter the strang­er comments out, but posting the daily life of a beauty queen, as Miss Singa­pore did, would have had plenty of support. When the votes were needed, she could have had a public to mobilize.
After the competi­tion was over, and the crown handed to her succes­sor, the blog could serve to launch her
career
in whatever field she wanted.
The
blog
world has changed things—but it is still "just a tool" that creates that old-fashioned connec­tion between two parties. Once upon a time, in the village, the vendor and the customer would have that very link. Today, tech­nology acts as the bridge, killing the concept of
distance
. But the idea goes a bit further than that. It makes each of us our own
public rela­tions
' agent, and it can even create a career for our­selves.
We might next see
politi­cians
blog next, to win votes—and to allow for
real
account­ability
.